Eye Bolts For Lifting With Shoulder Fully Threaded Shank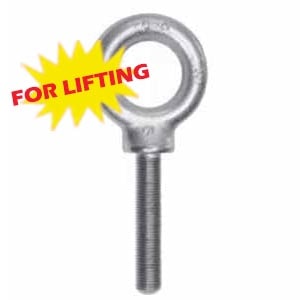 Eye Bolts for Lifting with Shoulder Fully Threaded Shank come in a variety sizes, materials, platings/coatings. Capacities listed are for vertical lifting only. These American Made Eye Bolts can be used for angular lifting up to 45°, but the capacities will be significantly reduced. See individual eye bolts for rating information.
Applications
The receiving hole should be counter-sunk and be free and clear of any debris to assure proper seating.

LOADS SHOULD ALWAYS BE ALIGNED TO THE PLANE OF THE EYE

, not at an angle to the plane. A steel washer or spacer may be used in conjunction with Shoulder Eyebolts to attain proper load alignment. The thickness of the steel washer or spacer must not exceed one thread pitch.
Angular lifting should be avoided.

Angular lifts significantly reduce rated capacities

.
Check seating after applying an angular lift since the initial lift may cause the bolt to back away from the load. If such occurs, the Eyebolt should be unloaded & properly reseated.
For applications with untapped through-holes, longer length Shoulder Eyebolts are recommended, using a steel washer and nut for the required thread length of engagement.
Shoulder Eyebolt tapped holes are to have a threaded length which allows for full length of shank engagement and clearance for the unthreaded portion of shank.
Shoulder Eyebolts must be firmly seated and flush against the mating surface; otherwise, the rated capacity is reduced significantly. The use of a steel washer or spacer is permissible and may be required; however, the thickness must not exceed one thread pitch.