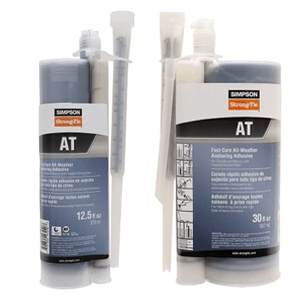 AT Acrylic Adhesive
---
Simpson Strong-Tie AT Acrylic Adhesive is Made in the USA. This high-strength, acrylic-based adhesive is suitable for use in damp or wet anchor sites and in a wide range of temperature conditions. It is a two-part system with the resin and initiator being simultaneously dispensed and mixed through the AMN19Q mixing nozzle. When properly mixed, adhesive will be a uniform gray color for easy post-installation identification.
Manufactured in the USA using global materials
Suitable for use in damp or wet anchor sites
Available in 12.5 oz. and 30 oz. cartridges for application versatility
Non-sag gel formulation ideal for horizontal, vertical andoverhead applications
Compatible Dispensing Nozzle AMN19Q
Calculate How Much Adhesive I Need
---
Simpson makes it easy to calculate how much adhesive you need to finish your project with the Simpson Strong-Tie Adhesive Cartridge Estimator. Once there Just Input, Rod Diameter, Drill Bit Diameter, Hole Depth in inches, and Number of Installations to calculate how many Cartridges you need. If you need assistance with the estimator just ask for our help in the chat below and technical support will assist you with your selection.